Праздник Пасхи - Христос воскрес! Воистину воскрес!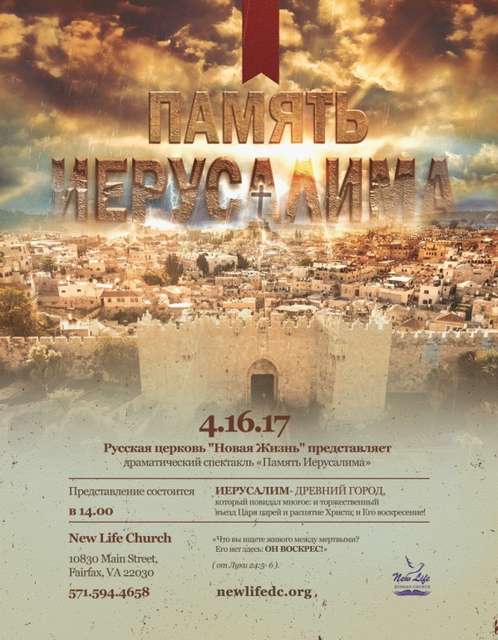 Поздравляем Вас с наступающим светлым праздником Пасхи! Приглашаем посетить праздничную музыкальную постановку – ПАМЯТЬ ИЕРУСАЛИМА 16 апреля в 14:00!
Будьте благословенны!
Русская Церковь Новая Жизнь
10830 Main St. Fairfax, VA 22030
www.NewLifeDC.org
We invite you to a musical play MEMORY OF JERUSALEM. This is amazing story of God's love and sacrifice of Jesus Christ for the world's salvation. Come and celebrate with us this glorious, breathtaking event on Sunday, April 16, at 2 pm. You will be inspired and blessed!
Many blessings to you and yours!
New Life Russian Church
10830 Main St. Fairfax, VA 22030
www.NewLifeDC.org
---
Territory:AL AK AZ AR CA CO CT DE FL GA HI ID IL IN IA KS KY LA ME MD MA MI MN MS MO MT NE NV NH NJ NM NY NC ND OH OK OR PA RI SC SD TN TX UT VT VA WA D.C. WV WI WY AB BC MB NB NL NT NS NU ON PE QC SK YT
Section: (from )